Are you in the market for a CBD tincture? Whether you're an experienced hemp user or brand new to the market, it's never a bad idea to look for what's available. The CBD world is always evolving and growing, and more and more products hit the market that can cater to more specialized needs than ever before.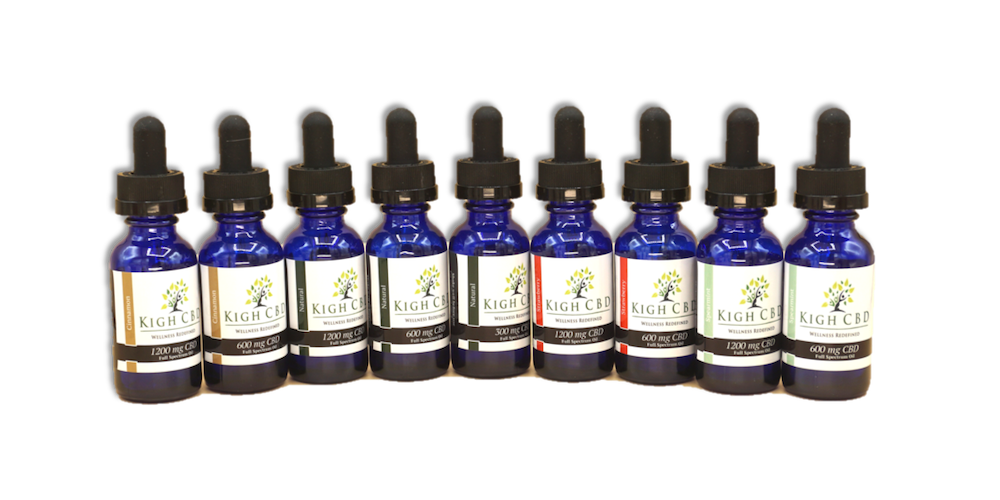 Do Your Research and Make Sure You Are Choosing The Right CBD Tinctures
At Kigh CBD, we're very proud of our best-selling CBD tinctures that are crafted using only the best plant material, cutting-edge methods and ingredients that are out there right now. We know that customers deserve the very best so that they can have positive results with their hemp regimen. We also know that not all CBD tinctures are created equally. That's why we've created this guide that lists ten things you should look for when shopping for CBD.
Love the team at Kigh, they couldn't be more helpful. It also doesn't hurt that they have great products!
What are CBD Tinctures?
Before we talk about what to look for in a CBD tincture, let's quickly explain what tinctures are and how they work, for those who don't know. CBD tinctures are administered orally, but rather than getting ingested, they absorb into the sublingual tissue that's beneath the tongue. This allows for a faster activation period while still providing long-lasting effects. CBD tinctures come in dropper bottles, making them easy to administer and dose out.
What to Look for When Buying a CBD Tincture
Now, let's talk about the ten crucial factors to pay attention to when going tincture shopping, whether it be in person or online.
Factor #1: Lab Reports
A company should provide lab reports on their website to prove their legitimacy and quality, as this has become the industry standard. These lab reports come from a third-party testing facility, which means that the information contained within them is completely unbiased, objective and factual. Lab reports break down everything from the purity level of the hemp to the chemical compounds that it contains. This is not just for CBD tinctures, but for all products.
Factor #2: Positive Reviews
It's also wise to search for positive reviews on the product you intend to purchase before buying. This way, you'll know the quality of the product, as well as what different customers are finding that it can do for them. Look for reviews both on the company's website and elsewhere.
Factor #3: Brand Transparency
One thing that's crucial is that CBD brands are transparent with customers. Due to a lack of regulations in the industry as we all await FDA approval, companies must go above and beyond to tell their customers how they produce their products. Companies that try to hide information from consumers are worthy of your suspicion, so be aware.
Factor #4: Correct Milligram Strength of Your CBD Tincture
A lot of your potential for CBD success has to do with the milligram strength of the CBD tincture you've selected. For those who don't know, the milligram strength refers to the potency level. How many milligrams of actual hemp extract are within the product's formula directly determines how much CBD and other plant compounds you're taking in per dose. Everyone's ideal milligram strength is unique, as factors like body weight and severity of symptoms all play a role.
Most users experiment with different potency levels before finding the one that's right for them, but look at the range that's available to get an idea of what's a moderate amount, a low amount and a high amount, and choose your ideal strength according to your needs.
Factor #5: Your Preferred Type of Hemp Extract in Your CBD Tincture
There are three types of hemp extracts out there: full spectrum, broad spectrum and CBD isolate. Full spectrum contains the complete array of cannabinoids, terpenes and flavonoids that exist in the plant. Broad spectrum is a THC-free alternative that still contains CBD and a limited amount of other minor cannabinoids. Then, CBD isolate is just CBD without any other hemp compounds present.
Each type of extract can give you a unique experience, so make sure that you do some research on how each one can affect you in order to decide which you'd like to try. And, remember that while full spectrum CBD does contain THC, it's only a trace amount, so it can't get you high no matter what.
Factor #6: A Clean Formula
Look at the list of ingredients on the label of the CBD tincture, as companies are not required to adhere to strict rules when it comes to what they put in their CBD tincture formulas. You want to see as few ingredients as possible. Make sure that the non-CBD ingredients that are present are up to your standards and are safe for you to consume.
Factor #7: Flavor or No Flavor
Some CBD tinctures are flavored, while others are not. If you have a strong preference, make sure to check whether or not a tincture is flavored before buying it. And, remember that full and broad spectrum hemp tinctures will taste like hemp, so unflavored doesn't always mean flavorless.
Factor #8: Right Price
We don't want to get ripped off when buying CBD, but CBD tinctures that are extremely cheap may also raise some red flags. Many companies try to prey on naïve first-timers by overcharging, while some brands try to get a competitive edge with super low prices that, at the end of the day, reflect inferior quality. Explore what is on the market to get a good handle on how much a CBD tincture tends to cost, give or take. This way, you'll know if you're paying the right price for a high-quality, legitimate product that can meet your needs.
Factor #9: A Long Shelf Life
Something that tends to get overlooked is the shelf life. On average, a CBD tincture lasts for about two years. After that, the chemical compounds start to break down, which means that they lose their effectiveness quickly. This makes the CBD tincture practically useless.
CBD tinctures should have an expiration date on them. When you buy your CBD tincture, make sure that the expiration date isn't coming up too soon, or else you might not be able to enjoy it for as long as you have it in your possession.
Factor #10: CO2 Extraction Process
Lastly, we suggest going with a tincture that contains hemp extract produced via the CO2 method. This method is superior, as it results in a cleaner and more chemically stable product.
Final Tincture Buying Thoughts
If you want to have the best possible results with your CBD tincture experience, follow this guide. We've broken down every factor that you should consider before making a purchase. At Kigh CBD, our tinctures check all of the boxes, so make sure that you explore what we have to offer on our website.