For pet owners looking to start their dog(s) on a CBD regimen, you're definitely not the only one. As more research shows the ways in which hemp affects canines, it's becoming more common than ever before to give dogs CBD as part of their daily routine. And, nowadays, the pet hemp industry is booming, offering a massive array of products to pet owners looking for a natural and holistic product for dogs.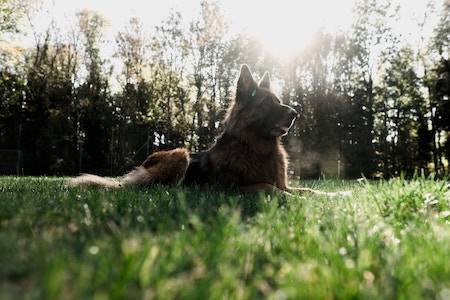 should i give my dog cbd?
Today, we'll be talking about how to talk with your veterinarian about giving CBD to your dog. We'll do this by breaking down the main questions that you need to ask them in order to have all of the information necessary. The more information you get from a professional, the better you'll be at customizing your dog's CBD routine to meet their unique needs and body.
We have a 100 lb hound mix with arthritis who occasionally walks with a limp. This CBD oil has been amazing in terms of alleviating her discomfort.
The Importance of Speaking to a Vet Prior to Starting Your Pup on a Hemp Routine
Before we begin, we want to stress the importance of speaking to your vet before you give your dog CBD. For one thing, there are so many different ways to give your dog CBD these days, in terms of the delivery method, potency level and more. The last thing that you want to do is waste money on a CBD routine that isn't actually suited for them.
More importantly, every dog's body and situation are unique, which means that CBD does not affect every canine in the same exact manner. Your vet may be able to discuss with you the unique ways in which you must modify your routine to ensure that your dog is following a regimen that's healthy and safe for them.
Question #1: Do Any Other Dogs You See Take CBD?
It goes without saying that the more experience your vet has with giving dogs CBD, the more likely they are to help you come up with a solid routine that can deliver the best possible results. So, ask them if any of their other canine patients are taking CBD, and if the CBD has been successful thus far. Just keep in mind that even if a vet has never had personal experience with administering CBD to a patient before, it doesn't mean that you should dump that vet altogether, as they may have studied hemp enough to understand how it works and how to use it.
Question #2: Do You Have a Good Understanding of What CBD Is and How it Works?
It's also good to know if your vet has a decent understanding of CBD, in terms of its properties, how it can be taken, its effects and so on. Ask them if they've read the clinical studies relating to CBD's effects on dogs specifically. You can even ask them if they've taken CBD themselves, as personal experience can indicate that they actually know a good deal about it that can be applied to your dog's routine.
Question #3: Do You Recommend a Specific Delivery Method?
There are a few delivery methods that you can choose from, including tinctures, edible treats and topicals. Ask your vet if they think that one will be more effective than the rest based on your dog's unique situation.
Question #4: What Milligram Strength Should They Take?
The milligram strength is important as it determines the potency of each dose your pup takes. So, ask your vet if they can recommend a milligram strength based on your dog's size, weight, breed and particular needs.
Question #5: What is the Best Dosing Schedule Based on Their Needs and Body?
Ask your vet if there is a particular dosing schedule that you should strictly adhere to, especially in the beginning. For instance, maybe your vet will think that it's ideal to give your dog CBD first thing in the morning, or right after they've finished their dinner. Maybe your vet will even suggest giving your dog twice the recommended dosage level for a certain period of time.
Question #6: How Can I Know if the CBD is Working?
Of course, when you give your dog CBD, you want to see results. Your vet may give you an idea of how to tell whether or not the CBD is doing what you want it to. Maybe they'll tell you certain signs in your dogs behavior that indicate that the CBD is doing its job. They can also give you an idea of how long you should wait before deciding whether or not the current regimen is in fact working.
Question #7: Are There Any Things I Should Be Looking Out for?
Don't forget to ask the veterinarian if there are certain side effects that you should be looking for when starting a routine. Your vet will likely suggest that you monitor your dog carefully in the beginning.
Question #8: Can I Increase the Dosage Level as Needed?
After keeping your dog on a consistent CBD routine for a certain period of time, you might feel that it's time to up the dose because you want stronger results. Well, it's smart to ask your vet ahead of time about whether or not it's a good idea to change the dosage level as you see fit. They may tell you that you should wait a certain number of weeks before making any adjustments or may tell you the maximum dosage amount you can give them after a certain amount of time has elapsed.
Question #9: Can My Dog Continue Taking Their Other Daily Supplements or Medications?
If your dog is already taking supplements or medications before starting a CBD regimen, ask your veterinarian if it's okay to continue administering these as you have been, and if there is any chance of a negative interaction. Be thorough about what it is that you're giving your dog each day so that your vet can give you the most accurate information possible and take their suggestions seriously.
Asking Your Veterinarian Questions Regarding CBD is Never a Bad Thing
The best thing that you can do before giving your pup CBD is having a conversation with your vet. He or she can guide you through the process of starting up a regimen that accommodates their unique situation. When bringing up CBD with your veterinarian, use these questions above to make sure that you have as much information as possible before getting started.