If there's one item that could be considered a staple of every hemp user's daily routine, it is a tincture, either natural or flavored CBD oil. CBD oil drops are unique in a number of ways, and today, there are so many great options to choose from, as you can select from a variety of milligram strengths, carrier oils and flavors.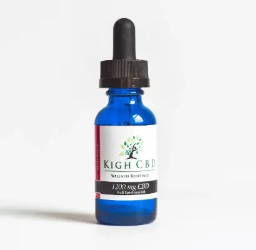 Flavored cbd oil
Kigh CBD is very proud of the tincture formulas that have been created. And, we're happy to share it with you, as many of our customers swear by it after taking flavored CBD oil daily. By covering what makes our tincture so special you can get a better insight into what separates us from the rest. But, most importantly, we will be diving into the delicious flavored CBD oils for which we have to offer that our customers simply can't get anywhere else.
But first…
I've been able to add CBD to my daily routine to level moods and lower stress/anxiety. This has been possible since the quality from Kigh is consistently high and their prices reasonable.
How CBD Oil Drops Work
Tinctures are oral administration products that work with the tissue beneath the tongue, known as the sublingual tissue. This tissue is uniquely absorbent, which means that when CBD is applied there, it reaches peak activation levels quickly – in as little as fifteen to thirty minutes actually. It can provide effects for a few of hours and is a very potent absorption method as well.
CBD tinctures are also very easy to take. They come in dropper bottles, and a full dropper's worth is typically, a single dose. All that you have to do is pour the amount directly beneath the tongue and hold it there for about one minute. Then, you can swallow the rest and you're good to go!
Kigh's Flavors of CBD
We take our tincture formulas very seriously. For one thing, we only use the highest-quality hemp out there. Our hemp compounds are always extracted using the CO2 extraction method which boosts the stability of the product, ensuring that it is as bioavailable and potent as possible.
Each tincture contains full spectrum hemp extract, which means that in addition to CBD, it contains all of the compounds within the hemp plant. This includes additional cannabinoids, terpenes and flavonoids. All of these compounds work together synergistically to give you a complete hemp experience.
While full spectrum extract contains a trace amount of THC as it naturally occurs in hemp, it is too low to deliver psychoactive effects, and allows the product to maintain its legal status. Our tinctures come in a variety of milligram strengths, which allows you to decide the potency level per dose.
CBD FLAVORS GALORE
If there's one thing that makes our tinctures extra special, it's that they taste great. Our customers love trying the full variety of flavored CBD oil that we have to offer. They have a uniquely clean and fresh taste that hits the spot and refreshes the palate. Allow us to dive into our exciting flavors in more detail.
Natural:
Technically isn't a flavored CBD oil, meaning that it doesn't contain flavoring additives. Just because this tincture is unflavored, however, doesn't mean that it's flavorless. In fact, hemp has its own unique flavor and aroma, and it's relatively pungent, which many consider to be a good thing. Hemp extract gets its flavor and aroma from its terpenes, which are unique plant compounds with exciting properties of their own. Hemp's natural taste has notes of citrus, herbs, pine and mint. Some say it's a slightly earthy taste. Either way, for any hemp purist, you may prefer this option.
Cinnamon:
Ready to spice things up? Our cinnamon flavored cbd oil has that warm and spicy taste that you know and love. Our customers describe it as exhilarating, and we couldn't agree more. If you appreciate warmer flavors, cinnamon might be the way to go.
Spearmint:
If you're in need of something refreshing, reach for our spearmint flavored CBD oil. This tincture is flavored with real spearmint, and each dose tastes just like you're chewing on the leaves picked off of the mint plant in mom's garden. It's soothing, invigorating and downright tasty.
Strawberry:
Last but not least, we have our strawberry flavored CBD oil. This fruity flavor gives you all of the delectable notes of this plump little berry. Tangy, tart and sweet notes take turns arousing your palate and refreshing you from head to toe.
select your flavored cbd oil and experience the kigh difference
Offering a nice variety of hemp oil tincture flavors that allow you to savor a uniquely delicious method for consuming our full spectrum hemp extract is what we are all about for the most part. Our flavored CBD oils are very unique in that they're made with clean ingredients, which is why our customers seem to be unable to get enough of them.
So, what are you waiting for? Check out our line today!