When you think of CBD, what's the first word that usually springs to mind? Chances are that it's "relief." If relief is what you're after, Kigh's Relief – Topical CBD Salve is the way to go. CBD or Hemp based salves are becoming more and more popular as they can be very fast-acting, soothing and skin-enhancing, and they allow us to enjoy high doses of hemp regularly without taking it internally. CBD salves are also great for allowing us to target a very specific area of the body, sending those wonderful hemp compounds exactly where they are most needed in concentrated doses.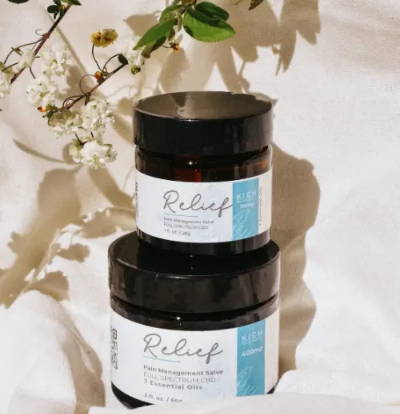 Our Relief CBD Salve is to be massaged directly into the affected area. When we set out to create this product, we knew that we wanted its formula to be unrivaled. That's why our list of ingredients is clean, natural and loaded with plant-based derivatives that are loaded with their own incredible properties.
The Kigh salve has helped with my pain management so much that I decided to try their Pet CBD drops for my 16 yr old dog. They have improved her quality of life so much and she enjoys going for walks again! Thanks Kigh!!
What Makes Our Relief Topical CBD Salve So Unique?
Well, allow us to give you a few quick reasons why this CBD salve product is an absolute must-have.
Reason #1: Relief CBD Salve Recipe Contains Full Spectrum Hemp Extract
Treat your body to the full variety of exciting and unique compounds found in the hemp plant. Our CBD salve is unique in many ways, but to start, it utilizes full spectrum hemp extract. For those who don't know, full spectrum hemp extract naturally contains the full variety of compounds that naturally occur in the hemp plant. This means that each application of our CBD salve gives your body a remarkable abundance of cannabinoids that feed the endocannabinoid system, in addition to terpenes that offer loads of marvelous plant properties to the skin and muscles. Further, full spectrum hemp contains flavonoids that boost the synergistic properties of the compounds, as well as a variety of vitamins and other nutrients that can benefit the skin profoundly.
Full spectrum hemp extract allows for the entourage effect, which means that by taking all of the compounds together at once as nature intended, each compound can multiply the efficacy of the others that are present. All CBD salve recipes in our opinion should include full spectrum hemp to provide every potential benefit.
Reason #2: Plant-Based Ingredients Included in Our CBD Salve Soothe the Skin on a Profound Level, and in a Natural Way
Our Relief CBD Salve contains more than just hemp. Rather than loading our formula up with cheap fillers to save money, we carefully sourced a variety of therapeutic plant-based extracts and oils that bring their own fantastic properties to the table. For one thing, our CBD salve recipe includes a variety of essential oils renowned for their effects, such as organic tea tree, globulus eucalyptus, clove bud, piperita peppermint, serrata frankincense and others. We also use plant oils that hydrate and soothe the skin while helping with irritation and dryness. Our formula is clean, meaning that you can easily identify each ingredient in the list that we provide.
Reason #3: Our CBD Salve Comes from Some of the Best Hemp on the Planet
Our exceptional formula doesn't just start with the ingredients. It goes all the way back to the hemp farms that supply us with our signature CBD. We have close relationships with our farmers which allows us to maintain the right level of quality. We also use hemp that has been extracted using the Co2 extraction process, which ensures a far more chemically stable product that has a long shelf life and fully activated compounds that are readily bioavailable.
If you want to prove for yourself that our CBD is the real deal, just check out the lab reports that we happily provide on our website. These lab reports come from a third-party testing facility and verify that each batch of hemp we use is free of harmful impurities, potent and generally high in quality.
How to Use Relief Topical CBD Salve
Now that you know what makes our Relief Topical CBD Salve recipe so special, you're probably wondering how you can use it once you get your hands on it. Well, the good news about CBD salves is that you can be fairly lenient with your dosing. Simply apply to the affected area as needed. Remember, a little goes a long way due to the potency level. Massage the salve into the skin until it's been fully absorbed, as this ensures that all of those compounds get to work beneath the surface. If you need to apply more in search of further relief, you can do so without concern since everything in our CBD salve recipe is all natural.