A very common question we receive is whether or CBD can help with recovery from exercise and workouts. The short answer is that the verdict is still out there as research into all areas of CBD continues. We will address some of that in this blog.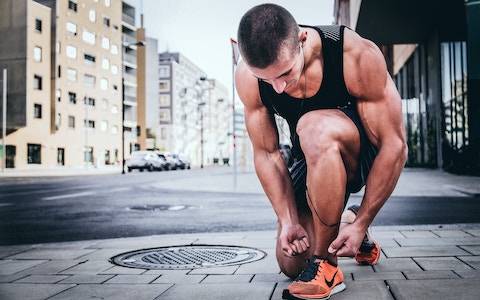 What causes muscle fatigue after exercising?
When muscles rub against each other during workouts or during training sessions, a condition known as DOMS or Delayed Onset Muscle Soreness is triggered. As the tearing of the muscles continues or muscles swell, you start to feel fatigue. Inflammation is experienced when muscles are damaged. When muscles are damaged, it becomes difficult to heal until inflammation is eased.
Whenever I get knee pain... I put it on at night, after getting out of the shower and before bed. In the morning relief and the pain does not return for weeks.
What is CBD?
Cannabidiol is a compound extracted from the cannabis plant, and is thought to be beneficial to your health without making people feel "high". CBD research in the areas of inflammation reduction, muscle spasms, pain relief and anxiety are happening as we speak. If research shows positive results, there is no doubt that it could be a great supplement for avid exercisers to include it in their overall active lifestyle.
CBD is one of more than 100 chemical compounds found in cannabis plants, which include both marijuana and industrial hemp. CBD is a close chemical cousin to THC, or tetrahydrocannabinol, the chemical compound found in marijuana that causes a psychoactive effect (AKA, the stuff that gets you high).
Though CBD is just one atom arrangement away from becoming THC, that microscopic difference is actually huge. No matter how much CBD oil you consume or how much CBD balm you rub on your body, you cannot get high from it.
From the Arthritis Foundation
From the Arthritis Foundation
Some preliminary research suggests that CBD may help with arthritis pain. In animal studies, which may not translate to humans, CBD relieved arthritis pain and inflammation. On the other hand, results of human studies are mixed. For example, a 2016 analysis of human trials for RA, OA and fibromyalgia found that CBD improved pain and sleep, but the studies were small and of poor quality.
Even so, Daniel Clauw, MD, a professor at the University of Michigan in Ann Arbor and an expert in chronic pain, doesn't write off CBD's potential benefits and recommends it to some of his patients.
"A recent trial showed CBD alone was effective in [the treatment of] knee OA, and it appears as though it is very safe," he says. "Nearly all potential side effects of cannabinoids are from THC, not CBD."
Here are his suggestions if you want to try it:
Use low doses, which seem to work best for pain relief.

Start with a CBD-only product, 5 – 10mg twice daily, and then slowly increase, going up to dose of 50 – 100mg per day.

Use only at night at first; slowly increase dose if needed.

Edibles' effects last longer than vaping, so don't try them until you know what CBD strain and dose work for you.
Can CBD Really Help Fight Post-Workout Recovery?
"As a personal trainer and someone that works out every day and really pushes myself a lot, I noticed the biggest difference in inflammation and stress after a workout," Tara Laferrara, a former sprinter and a NASM certified personal trainer, told MensHealth.com about her personal use of CBD.
Laferrara was introduced to CBD via friends in the fitness industry who tried it after cannabis was legalized in Colorado in 2014. Now, she's a devoted user. (A CBDevotee?) "It basically manages and prevents my joint inflammation, that aching kind of feeling, that I'd get after a heavy lift day," she says.
What type of CBD Products Should I Use?
Beyond CBD oils and tinctures, CBD is often sold in infused salves, lotions, capsules, edibles, vape pens, and more. Basically, you just need to decide if you'd like to ingest it or rub it on for relief.
CBD is a subjective chemical that reacts differently in every body. Once you feel the desired effect, you won't have to change the dose. Which means if you use CBD oil for recovery, you can just fill the dropper to the same spot every time.
To sum it up, if your doctor says it's ok and you are game to try CBD, go for it. Try it for a few weeks while varying the delivery method and dose to find what works best for you. Who knows? By tomorrow, you could be recovering faster from your workout and have one less excuse to skip leg day.